A Review of Microsoft To-Do
Chris Rinaldi
As of March 2019, Microsoft To-Do will become part of the exchange online licence. This means all customers with an Office 365 mailbox will be able to use To-Do. What use, if any, will you have for this application? To-Do is set to replace Wunderlist, which was purchased by Microsoft in 2015, so it's no surprise both apps are similar in function and design.
To-Do, as the name suggests, is a simple list app available in your browser or mobile to manage your day. Most of us already have an app, sticky notes or use our calendar for the majority of these tasks. What generally sets To-Do apart is suggestions for what you may want to accomplish today. Even without signing in previously, it matches meetings, appointments and notes from Dynamics CRM and overdue tasks for me to click and prioritise for today.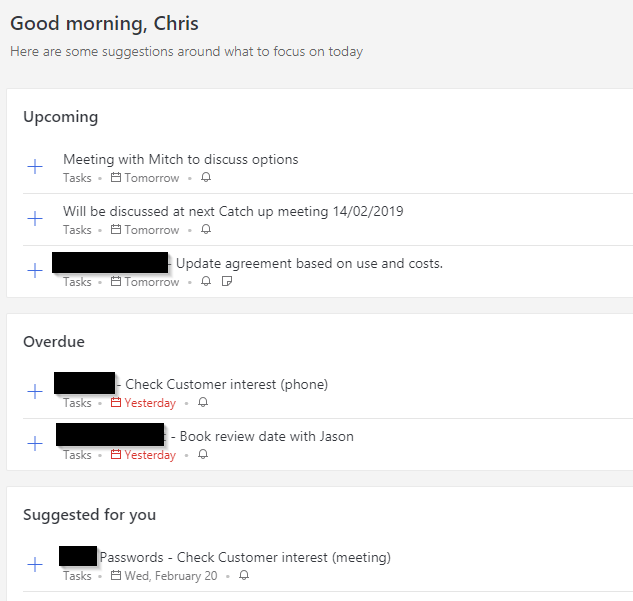 Clicking '+' will add this to your "My Day" to-do list whereas clicking on the item will give you more options including changing the due date, reminding you another day, or adding a file relevant to the task.
The "remind me" function is useful when paired with the app on your phone, as it will send you a notification when the task should be looked at.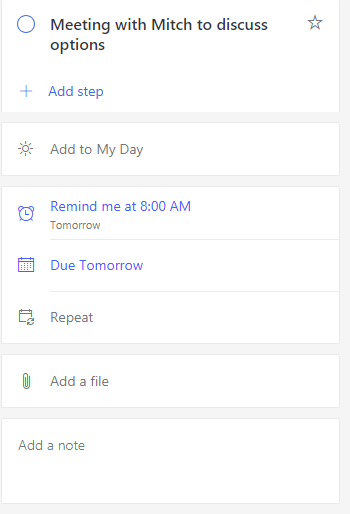 Of course, the list isn't just for work; since its also on your phone you can set actions and reminders to grab milk on the way home and the like. You can also create and share custom lists, so you can collaborate on tasks. One annoyance I found was that the website plays chime sounds one completion of a task, but I wasn't able to find a setting to disable this audio effect.
In review, I've found Microsoft To-Do has allowed me to collate tasks into a single location and the user-friendly layout in combination with access from the web, outlook and mobile has made it easier to integrate with my daily tasks. However, just like any planning tool it will require a bit of time each day to ensure my lists are in order. If you're looking for an app to help manage daily tasks or you're currently using Wunderlist, you may want to take a look at Microsoft To-Do.
Is Office 365 suitable for your business? How does it compare and what are the costs?
Friday, 22 February 2019, 10:00am
https://to-do.office.com/en-us
From work to play, To-Do is the easiest way to get stuff done, every day.
01 March 2019
Contact
Torque IT
08 9329 3333
Unit 1, 20 Twickenham Road
Burswood WA 6100
Opinions expressed in this post are that of the author and do not necessarily represent that of Torque IT. Although the author and Torque IT have made every effort to ensure that the information in this post was correct at the time of publishing, the author and Torque IT do not assume and hereby disclaim any liability to any party for any loss, damage, or disruption caused by errors or omissions, whether such errors or omissions result from negligence, accident, or any other cause.